Sky Sports' Chris Kamara plays for Welshpool Town after 10-1 ribbing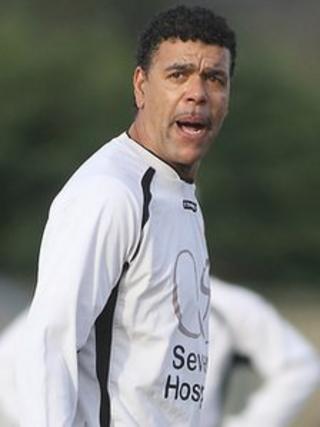 Former Leeds United and Stoke City star Chris Kamara has turned out for a struggling mid Wales side after they were mocked on Sky Sports.
Soccer Saturday presenter Jeff Stelling ribbed Welshpool Town when they lost to local rivals Waterloo Rovers 10-1.
But manager David Jones emailed the show explaining how the club nearly folded, and Sky made amends by arranging for Kamara to play for them.
Sadly, he did not have much of an impact as Welshpool lost 6-1.
The channel's cameras filmed the game against Rhayader, which kicked off at 14:00 GMT.
About 500 fans turned up to see the ex-pro in action, 10 times the attendance the club has been attracting of late.
The temporary new signing played a full 90 minutes in midfield for the Spar Mid Wales League outfit.
Kamara announced his comeback on Twitter before the match, saying: "After 17 years retirement I am back, move over Scholes & Henry."
He said he was playing for Welshpool Town, adding "[I] must be mad".
Welshpool manager David Jones said: "Chris played really well. He's still very fit."
'Unbelievable Jeff'
Town were 2-0 down at half-time, but scored just after the break to put themselves back in the game.
"He gave us a team talk before the game and at half-time and he was talking to the lads throughout the match," added Jones.
"We got back into it early in the second half, but Rhayader ran away with it in the end.
"Chris said he enjoyed it, but there are no plans for him to play again for us."
Kamara, 54, who played in defence and midfield during a 20-year playing career, made his league debut in 1975 for Portsmouth.
He went on to play for Swindon, Brentford, Stoke City, Leeds, Luton Town, Sheffield United, Middlesbrough and Bradford City.
He went into management briefly following his retirement from the game in 1995, before becoming a pitch-side reporter for Sky Sports.
He has since become well-known for his catchphrase: "Unbelievable Jeff".
Known as the Lilywhites, Welshpool are languishing near the foot of table, with eight points from 21 games.
Two years ago they were in the Welsh Premier League and in 2007 just missed out on qualification for the Uefa Cup.
But since then the club, which was founded 133 years ago and is one of Wales' oldest, has fallen on hard times, and had no players or a manager in August.
The Boxing Day hammering by Waterloo Rovers was the lowest point of the season so far. It was picked up by Stelling, who quipped that Welshpool had met their Waterloo.
Unfortunately, the crushing 10-1 defeat was followed by a 7-1 thrashing at the hands of Llansanffraid Village on New Year's Eve, which Stelling then mentioned on the show.
Sky Sports contacted Jones and said it was sending a camera to one of the club's matches and a former football star would play for them.
Kamara has had to sign for Welshpool until the end of the season, and because his last club was in England he needed international clearance from the Football Association of Wales to play.