Sky Sports star name to play for Welshpool Town after 10-1 ribbing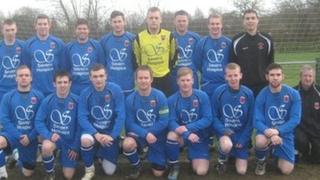 A struggling football team will welcome a retired star into their side after becoming the butt of a Sky Sports joke.
Soccer Saturday presenter Jeff Stelling made fun of Welshpool Town's 10-1 hammering at the hands of local rivals Waterloo Rovers.
But manager David Jones emailed the show explaining how the Spar Mid Wales League club nearly folded last August.
Now, to make amends, Sky will send a - so far unnamed - ex-star to play for Town in their home game on Saturday.
Sky Sports cameras are set to film the game against Rhayader, with the temporary new signing expected to play in midfield.
Welshpool Town, known as the Lilywhites, are languishing near the foot of table, with eight points from 20 games.
Two years ago Welshpool were in the Welsh Premier League and in 2007 just missed out on qualification for the Uefa Cup.
But since then the club, who were founded 133 years ago and are one of Wales' oldest, have fallen on hard times.
The Boxing Day hammering by Waterloo Rovers was the lowest point of the season so far. It was picked up by Stelling, who quipped that Welshpool had met their Waterloo.
Welshpool manager David Jones, 26, said: "I was in a pub in Welshpool following the 10-1 defeat when I started receiving texts saying the score had been read out on Sky Sports.
"The next day I saw what Jeff had said but about us, but I wasn't angry, it just summed up our luck really.
"I set about writing an email explaining what we'd gone through, that the club didn't have any players or a manager at the start of the season and nearly folded."
'Calf muscle'
Stelling read out Jones's email on Soccer Saturday on New Year's Eve and commended the manager for putting the club's problems into perspective, adding that there would be "no more taking the mickey out of Welshpool Town".
Unfortunately, the crushing 10-1 defeat was followed by a 7-1 thrashing at the hands of Llansanffraid Village on New Year's Eve, which Stelling then mentioned on the show.
Jones confessed he played in goal for part of the game against Waterloo Rovers, letting in seven, and they were so short of players that the captain of the town's rugby club was drafted in.
"Our goalkeeper was suspended and we'd called in a 42-year-old veteran goalie, but he pulled a calf muscle after a few minutes so I played in goal," said Jones.
Sky Sports contacted Jones and said it was sending a camera to one of the club's matches and a former football star would play for them.
The ex-pro has had to sign for Welshpool until the end of the season, and because his last club was in England he needed international clearance from the Football Association of Wales to play.
"As you can imagine, we have a massive squad to choose from on Saturday. The lads can't wait," added Jones.
"Soccer Saturday is said to have an audience of 2m, so hopefully we'll get some sponsorship out of it."
Spar Mid Wales League secretary Phil Woosnam said he hoped the exposure would be good publicity for the league.