Two injured in helicopter crash near Lake Vyrnwy, Powys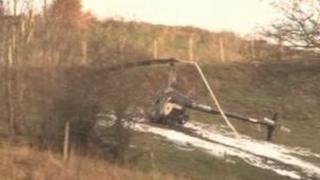 Two people are being treated in hospital after a helicopter crashed near Lake Vyrnwy, Powys.
Fire crews say they were called to the crash, involving a private helicopter, at Llanwddyn at 13.15 GMT on Monday.
The helicopter was heading for the landing site at Lake Vyrnwy Hotel but crashed and caught fire about 100 yards (90m) away.
It is understood the two occupants, a 30-year-old man and a woman, 32, were not seriously hurt.
The air ambulance was called and firefighters are clearing up at the scene.
Anthony Rosser, the Lake Vyrnwy Hotel manager, said: "I can confirm that a small privately-owned helicopter coming to land at the hotel crashed just after 1pm.
"Two people were on board. They were airlifted to Shrewsbury hospital by RAF Valley helicopter. They were walking wounded with cuts and bruises.
"We have a landing area - they were approaching that and landed in a field approximately 100 yards from the landing area."
'Very lucky'
He said staff at the hotel had witnessed the crash.
"We think it was a pleasure trip but don't know that for sure. They weren't booked to stay at the hotel," he said.
He added the pair appeared to have been very lucky.
Dyfed-Powys Police said they were alerted to the incident at about 13:10 GMT.
The two occupants in the helicopter - a Robinson R22 - have been taken to the Royal Shrewsbury Hospital.
It is believed they had been visiting the area for the day.
The Air Accidents Investigations Branch will look into the cause of the crash.