'Fly grazing' ponies moved from Monks Wood, Wick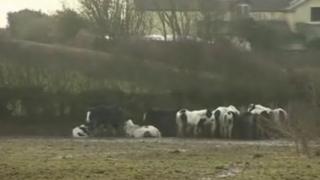 The Woodland Trust has called for police to investigate after a gate was damaged when a herd of "fly-grazing" horses were taken from community land.
Up to 40 Welsh Gypsy Cobs were left for two weeks on land known as Monks Wood, near Wick, Vale of Glamorgan.
Their owner did not come forward, prompting fears they would have to be destroyed if new homes were not found.
The animals were removed over the weekend, although the charity claims more damage was done to the site.
The Woodland Trust said it had helped villagers to plant trees at the spot so they could enjoy it as a community facility.
But the work has been wrecked by the horses being dumped on the site over the Christmas period, it said.
After they had stripped the bark from the trees and eaten all the grass, some horses that went hungry simply died where they stood.
Woodland Trust spokesman Rory Francis said: "We had a number of offers from members of the public to take some of these horses but in fact at half past five on Saturday morning, they were all moved.
"More damage was caused to the side in doing that.
"We certainly hope the police, the local authorities, will learn from this and take out prosecutions.
"A number of criminal acts have taken place here and they need to be investigated and followed up."
South Wales Police has been contacted for a response.