Kirsty Williams complains over second Christmas Day power cut in Powys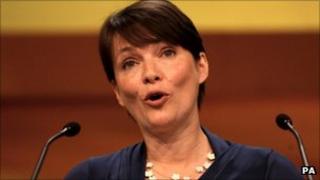 An assembly member has written to an energy company after there were power cuts in Powys on Christmas Day for the second successive year.
More than 5,500 homes in Knighton and the upper Teme Valley were affected between 14:17 and 14:35 GMT, and about 300 lost power later in the day.
Brecon and Radnorshire AM Kirsty Williams has written to Western Power Distribution to complain.
The firm apologised and said the incidents were unrelated.
In her letter to the chief executive of Western Power Distribution, Ms Williams, who is also the leader of the Welsh Liberal Democrats, demanded answers about how the company will prevent the situation from happening again.
She said: "Many families in Radnorshire have now suffered two consecutive years with power cuts just when they were trying to cook their Christmas dinner.
"This is completely unacceptable.
"I am especially concerned about the impact on older people who may not have been able to heat their homes in the middle of winter if they relied on electric heating."
Ms Williams said with so many rural areas having no access to the gas network, a stable and reliable electricity supply was essential.
"In 2010 many people thought that, because of extremely bad weather and demand for heating, the power cuts may have been a one-off," Ms Williams added.
"But to have power cuts occur again when the weather was much milder suggests a much bigger problem."
Western Power Distribution said the two incidents were unrelated.
The company said 5,561 customers were affected between 14:17 and 14:35 GMT, and approximately 300 experienced a further interruption between 17:02 and 17:31 GMT.
"The interruption this Christmas was caused by a large fir tree falling onto an overhead line in Presteigne," said a spokeswoman.
"The interruption on Christmas day in 2010 was caused by a problem on an underground cable which was fully repaired at the time.
"It is extremely unfortunate to have experienced two unrelated incidents on the same day, two years running.
"We would like to apologise for any inconvenience caused to our customers."