Brecon Jazz rescue offer from Porthcawl Elvis festival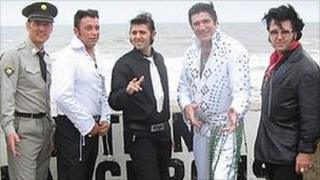 The organisers of an annual Elvis festival in Porthcawl say they are interested in taking over Brecon Jazz.
They are joining forces with the seaside resort's Celtic music festival to bid for the event after the Hay Festival ended its involvement.
Other parties to have expressed an interest include a Cardiff events company and a Carmarthenshire brewery.
Elvis festival promoter Peter Phillips said it would keep the jazz festival in Brecon and return it to its "heyday".
Brecon Jazz has been seeking a new promoter since the Hay Festival, which took over the event in 2009, announced it was pulling out.
First staged in 1984, the mid-August event has been a critical and popular success over the years, attracting leading international jazz musicians and up-and-coming artists from the UK.
But it has faced financial difficulties.
In December, Cardiff-based promoters Orchard Media and Events and Llandeilo brewer Evan Evans both said they were interested in taking on the festival.
Now Mr Phillips, who has run the Elvis Festival in Porthcawl for the last eight years, has also come forward.
His bid is in partnership with the team behind the Porthcawl Interceltic Festival.
Mr Phillips said: "We have an outline model that will bring the jazz festival back into the town."
He said it involved "free music on family orientated outdoor stages" along with street entertainment.
"We want to recreate the energy that Brecon Jazz had in its heyday," he added.
"As with our other music events it's all about delivering quality artists but not losing sight that festivals need to be fun."
The Arts Council of Wales is offering publicly-funded support and while Mr Phillips said that would be welcome, he said they had a corporate sponsor interested in supporting the festival.