Smartphone app finds lost Brecon Beacons walkers again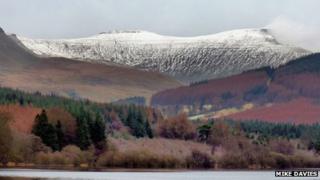 Missing walkers in the Brecon Beacons have again been saved by mountain rescue teams using the latest smartphone technology.
For the second time in just over a week the Brecon Mountain Rescue Team (MRT) used the Sarloc system to find hikers.
On Friday, two men from the Caerphilly area were saved when they became lost in low cloud on Fan Hir.
The system was developed by rescue teams in Snowdonia, and pinpoints the exact location of a smartphone.
Mark Jones from Brecon MRT said: "Despite it being dark when our teams assembled we were able to locate exactly where the men were, using a web-based mobile phone location programme called Sarloc.
"The software works by sending a web link to the missing person's phone.
"Once they click on the link their location is sent to the mountain rescue map servers and flashes up on the computer system being used by the search manager at the scene."
The two rescue teams were able to go straight to the missing men and walk them off the hill in a three-hour operation.
'Busiest year'
The 30 December call-out was the 97th of 2011 for Brecon Mountain Rescue Team, making it their busiest in its 43-year history.
Mr Jones added: "This software is a great help to us, but should in no way replace the use of a map and compass by the walkers on the hill.
"It may help us locate the missing persons more quickly than traditional search techniques, but basic mountain skills are still essential."
Teams used similar technology on 21 December to find a couple lost on south Wales highest mountain, Pen y Fan. The couple downloaded an app which revealed they more than a mile from where they thought.
Sarloc was devised by Russ Hore of Ogwen Valley Mountain Rescue Organisation, and has already been used to locate missing walkers across Snowdonia.
The system is now being adopted by mountain rescue teams across the world.