Cabinet archives show 'Margaret Thatcher U-turn over Welsh TV channel'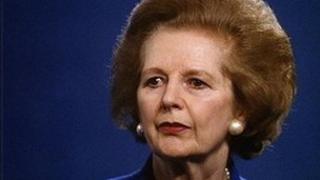 Margaret Thatcher agreed to a U-turn and backed the creation of a Welsh-language TV channel over fears of inflaming nationalism, say cabinet papers.
A hunger strike threat by ex-Plaid Cymru MP Gwynfor Evans contributed to the government fulfilling its pledge.
Details emerge in newly-released National Archives files for 1981.
They show the prime minister was talked out of plans for Welsh broadcasts on two channels during a cabinet meeting.
S4C was launched in 1982.
"That really was quite a U-turn by Margaret Thatcher's government," said Mark Dunton, a records specialist from the National Archives.
"The file that's been released today shows the point at which Willie Whitelaw, the Home Secretary reversed the government's position.
"That really was forced upon him in many ways by Gwynfor Evans' action and the whole campaign that got behind Gwynfor Evans on Welsh language broadcasting."
'Taken aback'
This file covers financing arrangements for the fourth channel, including concerns that advertisers may be put off by the "minority appeal of the channel", and proposals for Welsh language television.
This includes correspondence about the threatened hunger strike by Evans if the government did not implement its manifesto commitment to a Welsh language channel.
This stance forced the government's hand so as not to inflame Welsh nationalism, according to the archives.
Mr Dunton added: "You see in the files how Willie Whitelaw and Nicholas Edwards, the Secretary of State for Wales at the time, how they were taken aback really by the sheer strength of feeling.
"Gwynfor Evans' pledge that he was going to go on a hunger strike unless the government changed its position on Welsh language broadcasting caused alarm in government.
"It caused worry and in the end, Whitelaw in particular felt 'we really do need to change our position'.
"The Archbishop of Wales intervened, you can see accounts of the meetings in the file.
"You also see how Mrs Thatcher was concerned about 'if we give in on this will others start challenging this as well. In fact will we be encouraging Welsh nationalism'. You see that in the file as well."
Cabinet concerns were also revealed in earlier papers released in 2010 under the 30-year disclosure rule.