Brecon Mountain Rescue reach walkers with smart phone app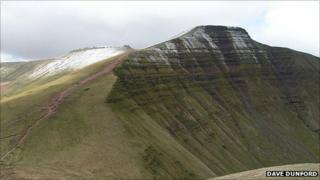 A couple lost in the dark on the Brecon Beacons have been rescued with help from a smartphone app.
Brecon Mountain Rescue Team helped the man and woman download a specialist application over the phone to pinpoint exactly where they were.
The couple, both in their 20s and on holiday from Somerset, set out at lunchtime on Wednesday for Pen y Fan.
But they did not have a map, compass or torch and became lost, and as darkness fell they raised the alarm.
An app, or web application, is accessed over a network such as the internet and can be used for a variety of functions.
Mark Jones, deputy team leader of Brecon Mountain Rescue, said: "The couple were exhausted and very worried. It was dark and they didn't know where they were.
"We were able to help them download OS Converter, an app that gives you your grid reference.
"That told us exactly where they were so we could find them on the mountain and escort them to safety."
Mr Jones said that thanks to the app, the rescue took three-and-a-half hours rather than taking all night, as the couple were more than a mile away from where they thought they might be.
"Technology saved us all a night on the mountain, but it can never take the place of a traditional map and compass and being properly prepared," Mr Jones added.
Central Beacons Mountain Rescue Team also helped with the rescue.
In 2006, two walkers stranded in the Brecon Beacons in blizzard conditions used the flash on their camera to help alert rescuers to their position.