Marks and Spencer planning new Aberystwyth store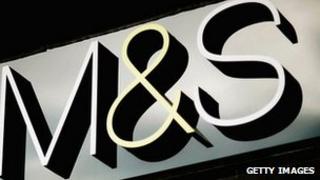 Marks and Spencer (M&S) is planning a new store in Aberystwyth as part of a multimillion-pound scheme to develop the town centre.
Ceredigion council says the high street giant's 54,000 sq ft (5,000 sq m) store is earmarked for the Mill Street development, alongside a new Tesco.
A day centre and 12 terraced homes are under threat from the project and there have been objections.
M&S said it was interested in the town, but had nothing to confirm.
Developer Chelverton Deeley Freed confirmed it had an agreement with M&S over the Mill Street site, but said a planning application for the project was yet to be submitted to the council.
Food, clothing and household goods would be sold at the new store, said the council.
'Fundamental to future'
The local authority announced its preferred developer for the project, earmarked for one of its car parks, in October.
It said the scheme would create more than 200 full-time jobs, while it could boost town centre trade by between £1.6m and £3.5m a year.
A council spokeswoman said: "Ceredigion County Council's preferred developer on Mill Street car park has negotiated and agreed terms for Marks and Spencer to be included in this development opportunity, alongside Tesco".
She said the decision had been approved by the board of M&S.
An M&S spokesperson said: "We do have an interest in Aberystwyth but we have nothing to confirm at this moment."
There have been calls for an M&S store to help rejuvenate the town centre, which has been hit by the recession.
Many shoppers desert Aberystwyth for larger towns and cities with a broader range of high street stores.
The chair of Aberystwyth Chamber of Commerce, Chris Mackenzie-Grieve, has said that the Mill Street scheme is fundamental to the town centre's future.
The recession, out-of-town shopping and the internet have all had an impact on the town's high street, along with well-publicised parking problems.