Powys chairman Barry Thomas to help fellow dyslexics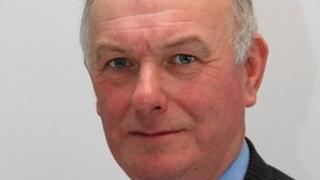 A council chairman who has dyslexia is looking to form a support group for people who also have the condition.
Powys chair Barry Thomas was diagnosed only in the last few years, but has always had problems writing.
He has held several high profile positions with the local authority, but said there was still a stigma attached to the condition.
He has been raising the profile of dyslexia since he took up his civic role in May.
Dyslexia is a term covering a range of types of learning difficulty where someone of normal intelligence has persistent and significant problems with reading, writing and spelling.
Mr Thomas represents the ward of Llanfihangel, near Welshpool, and is a former leader of the Shires Independent Group and an ex-board member.
"I am extremely fortunate that I can read. My problems are with writing," he said.
"I've had a speech-activated system on my computer for two-and-a-half years and I dictate letters I have to write," he said.
"There's also a system that reads documents for you, so there are ways around the problems.
"Before that, I always received help so it's not been a disadvantage for me."
To gauge the level of interest, Mr Thomas has spoken to people with dyslexia in Welshpool, Brecon, Ystradgynlais and Llandrindod Wells in recent weeks.
"Years ago the condition wasn't recognised," he said.
"People with dyslexia are very good at hiding the problem and I suppose they can feel quite ashamed by it. There's still a stigma attached to it.
"There is lot of help out there, but it's quite difficult to find. I'm hoping the support group will make that easier."
Mr Thomas is organising a public meeting in Llandrindod Wells on 28 January where the formation of his county-wide support group will be discussed.