Plans to shut medieval Monk's Trod after 4x4 damage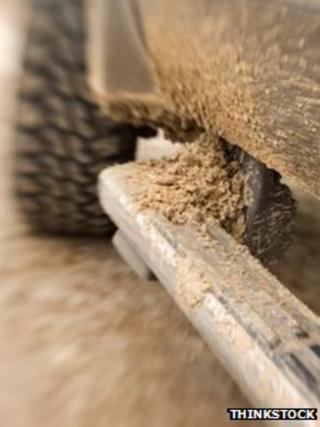 A protected medieval byway linking two old Cistercian abbeys in mid Wales could be closed after being damaged by off-road vehicles.
Cars and 4x4s have been banned from the Monk's Trod in Powys since 1990 and motorbikes were stopped from using it in 2002.
Powys and Ceredigion councils now plan to prevent walkers, cyclists, horse riders and carriages from using it.
Repairs to the track could cost up to £300,000, Powys council said.
The council said it would take a long time for the protected peat and blanket bogs to recover from the damage, but its proposed order would be subject to consultation.
The ancient track links the former 12th Century Cistercian abbeys of Abbey Cwm-Hir, near Llandrindod Wells, and Strata Florida, near Tregaron, Ceredigion.
The Monk's Trod runs for more than five miles (9kms) in Powys and then crosses into Ceredigion to become an unclassified road, stretching for more than one mile (2kms).
Wynne Jones, Powys cabinet member for regeneration and culture, said: "Monk's Trod route goes through an unbounded natural peat upland which is designated as a Special Site of Scientific Interest, a Special Area of Conservation and a Special Protection Area.
"The surface has deteriorated through the use of vehicular traffic and it will take a long time for the peat and blanket bog to recover.
'Permanently closed'
"We have a duty to repair highways that are publicly maintainable, but we also have a statutory duty to conserve biodiversity and the permanent closure will remove future conflict of all traffic accessing Monk's Trod.
"Until finances can be made available to put the route into repair and in a manner to which no harm will be done to the sites' ecological sites, it will remain permanently closed."
Ceredigion council is also responsible for a small part of the track.
A spokeswoman said the authority was in talks with Powys council over plans for a permanent traffic regulation order closing Monk's Trod to all types of traffic.