DNA traps couple who fled Aberystwyth B&B without paying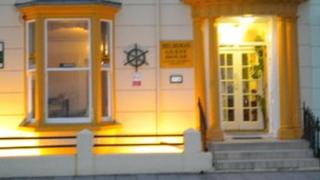 Police who used DNA to catch a couple who fled a B&B without paying after one night have warned they will use all available science to trace offenders.
Dyfed-Powys Police obtained the DNA profile from luggage left at the Helmsman guest house in Aberystwyth.
The cost has not been revealed, but the couple were given a conditional discharge and community order, with £85 costs and £65 compensation.
One expert said cost must be considered but DNA profiling was a deterrent.
According to a Cambrian News court report, the man and woman in their 20s stayed at the seafront guest house in June and left early, having booked two nights.
Aberystwyth magistrates were told a DNA sample was obtained from luggage and two people were later arrested in Shrewsbury. The court report said the woman realised benefit money had not gone into her bank account and they left because they were embarrassed.
Experts say the case is a reminder that DNA profiling is no longer reserved for the most serious crimes.
Dyfed-Powys Police said: "Police will use all available scientific means, including DNA testing, to support investigations and to identify offenders."
Consultant forensic scientist Nigel Hodge said: "I travel a lot and stay in hotels or B&Bs, and these crimes do happen.
'Not victim-less'
"Unfortunately people occasionally do runners.
"Talk to anyone who works in a petrol station and they'll tell you that people sometimes fill up and drive off.
"These offences take place, and they are not victim-less."
When first introduced in the 1980s, DNA profiling was considered expensive, and was initially reserved for serious crimes, Mr Hodge said.
However, by the 1990s, police forces were encouraged to use it to try to solve more common street crimes.
DNA profiling was now seen as an everyday technique for police forces, even for relatively minor offences, he said.
Samples start at about £150, but can rise to more than £300 for crime scene samples, and cost thousands for complex analysis methods, said Mr Hodge.
"Cost is an issue. Is it worth spending all that money for a crime which perhaps involved the theft of £50?
Human rights
"But the police also have to take into consideration their obligation to investigate offences, and the impact of crimes on victims.
"DNA profiling has also been shown to act as a deterrent. Perhaps we have to let people know they can not get away with these things."
Dr Helen Wallace, director of Genewatch UK - which monitors the impact of genetic technologies on issues like human rights - said putting someone's record on the DNA database cost about £40.
"It's quite routine to take swabs for minor offences.
"Most of the cases that involve DNA these days are burglary or theft."
However, the organisation questioned whether DNA tests for minor offences should be kept indefinitely, she added.