Aberystwyth vigil over supermarket threat to day centre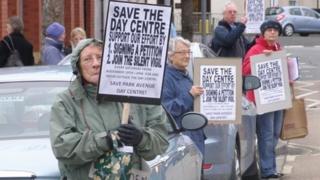 Pensioners have held a vigil outside their day centre in Aberystwyth which is under threat from a supermarket development.
They oppose plans to demolish the centre in Park Avenue to build a Tesco, displacing about 100 users.
Organisers have vowed to keep up the protests, which began at the centre three weeks ago until they succeed.
An action group will meet Ceredigion council's leader on Tuesday. Tesco has said there will be full consultation.
The group have collected 4,000 signatures for a petition, which will be presented to the council.
'Unsuitable' alternative
A planned development to build a Tesco supermarket has placed the centre, which opened 30 years ago, and 12 terraced homes nearby under threat.
Ceredigion council wants to move the pensioners to the basement of the town hall, which is being renovated.
But the Save Park Avenue Day Centre (Spadc) group claims the basement room is too small and a disabled ramp outside is unsuitable.
Group chairman Gerald Morgan, 76, said: "We plan to continue with the vigils every Saturday until the county council changes its mind.
"The day centre provides a valuable service to the community offering respite care for carers and offers a break from home for elderly people."
Ceredigion council said arrangements had been made for representatives of the action group to meet council leader Keith Evans on Tuesday, when the petition will be presented.
Tesco has previously declined an offer of an interview on the development, but a spokesperson had said it was still early days in the process and there would be full public consultation on the part of developer and the local council.