Goronwy Evans £39k away from Children in Need million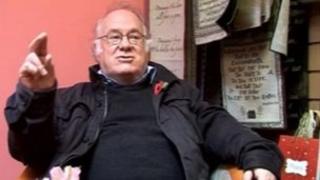 A Ceredigion man is £39,000 away from raising £1m for Children in Need.
Goronwy Evans, who used to work for the BBC in Lampeter, started raising money for the charity in the mid-1980s from his front room with wife Beti.
Now in his fourth decade, he hopes this will be the year he reaches his personal £1m mark.
The appeal began with hundreds of fund-raising events across the nation looking to beat the £1,034,336 pledged across Wales on the day in 2010.
Mr Evans said: "I hope there will be somebody out there who says 'well, they've done wonderful over the years, why can't we give them a push'?"
In one year alone, in the mid-1990s, Mr Evans raised £110,000.
In those days he had four phone lines to his house, but fundraisers now dial one centralised line.
Elsewhere, people from across Wales have been raising money for the annual BBC appeal.
Englishman Andy Gildon, who works in Cheshire was speaking Welsh all day to raise money - including to his American colleagues.
A Pudsey challenge event was hosted by the Welsh Institute of Sport, Sophia Gardens, Cardiff (17:30-20:30), with the bear stilt walking and even abseiling from the stands of the Swalec Stadium.
There are live broadcasts on BBC One Wales from the Royal Welsh College of Music and Drama in the city on Friday evening, hosted by Lucy Owen and Jamie Owen.
Also in Cardiff, events include a sponsored 12-hour street "dance-a-thon" from midday on Mill Lane.
Staff at the Little Chef in St Clears, Carmarthenshire, were staging a 24 miles (39km) sponsored walk to the Little Chef in Cross Hands, selling knitted Pudsey Bears and cakes along the way.
A charity CD by singer, songwriter and BBC Radio Cymru presenter Caryl Parry Jones has also gone on sale, called Cân y Babis (The Babies' Song).