Parking wardens set to patrol Ceredigion from next June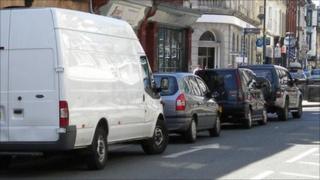 New parking wardens are expected to be on patrol in Ceredigion from next June after an absence of a year.
The county's three traffic wardens stopped working on 31 May after control switched from police to the county council, which said it would take time to put its system in place.
Since then there have been complaints of chaos in towns such as Aberystwyth.
The council will now submit an application to the Welsh government to create a parking enforcement area.
It is proposed that seven parking officers will manage on-street parking and council-run car parks from 4 June.
Following a cabinet meeting on Tuesday, the local authority said it would submit an application to the Welsh government "requesting the creation of a civil enforcement area and special enforcement area".
The county used to have three wardens who worked for Dyfed-Powys Police. Two worked in Aberystwyth and the third had responsibility for Cardigan and other towns.
But since they stopped working, there have been complaints about a parking "free-for-all" from business leaders, councillors and the AA, which accused drivers in the county of being "very selfish and potentially dangerous".