Cwm Harry's £229,000 lottery boost for Powys allotments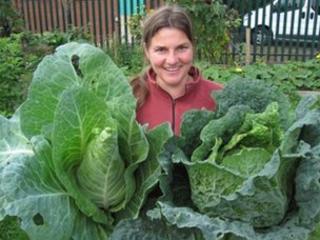 A group which composts, grows and sells vegetables in Powys has been awarded £229,000 in lottery money to set up three community allotments.
The success of Cwm Harry Land Trust's project at Newtown has inspired organisers to set up new sites around Montgomery, Welshpool and Llanidloes.
The three-year project will employ four part-time workers.
It also involves working with a dozen schools to help pupils to create allotments to produce their own food.
"We are really excited about this project," said Emma Maxwell, horticultural manager for the social enterprise group.
"It comes at a time when food poverty is coming up and we can make people aware about how to grow their own food and improve food knowledge.
"We really need to raise awareness that local food is more sustainable," she said.
'Snapped up'
A big function of Cwm Harry Land Trust is to collect and compost all the food waste from the Welshpool, Llanidloes, Berriew, Newtown area, turning it into compost.
As well as growing its own produce, it also helps other growers to sell to the community.
Now, its Get Growing Project has received the backing of the Big Lottery Fund.
The idea came about after the trust opened a community garden to start producing its own vegetables and then set up micro allotments on-site for growers which were "snapped up".
It was formerly waste ground and which has now been "transformed" with polytunnels and raised beds producing food sold in vegetable boxes to the community with the waste then collected and turned into compost.
The trust said they have ideas as to where the new community growing sites may be set up but they would welcome suggestions if anyone is aware of locations which may be suitable.
In September it was announced that Cwm Harry Land Trust helped Powys communities Presteigne and Norton reach the Welsh government zero waste target to recycle 70% of waste 14 years ahead of schedule, compared with 37% across the county.
By 2025 the Welsh government expects the country to recycle 70% of its waste.