Aberystwyth singer, peace campaigner Olwen Davies dies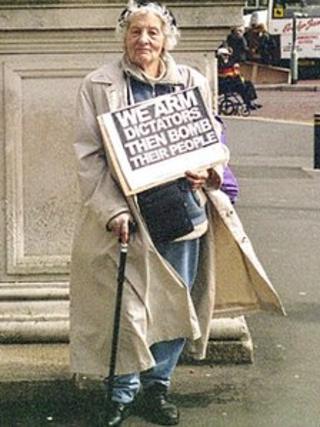 Tributes have been paid to a veteran peace campaigner and former opera singer who has died, aged 87.
Olwen Davies, from Aberystwyth, was a former vice-chair of CND Cymru and was also a representative on the group's British council.
Fellow peace campaigner Rod Stallard described her as a gentle but determined person.
She died at Aberystwyth's Bronglais Hospital and her funeral is taking place on Friday.
Mrs Davies was a well known in the town for her role as a peace campaigner.
She was born in London to a Welsh family and following the outbreak of World War II moved to Ceredigion where she went to school in Tregaron, said Jill Gough of CND Cymru.
But it was singing that Mrs Davies excelled at and after professional training she became an opera performer.
She moved to Italy where she sang for a number of years and, being fluent in Italian, became a translator for the United Nations.
On the CND Cymru website, national secretary Ms Gough said: "Olwen was a determined woman who was always truly alive.
"Her family came from Blaenpennal (near Aberystwyth) in Ceredigion.
"Although Welsh (was) in her heart and her language, she spent her early years in the Old Kent Road, London where her family were part of the London-Welsh dairies.
"Olwen said that her mother had told her that she was always singing, even as a baby.
"Later she returned to Wales - I believe in 1939 - and went to school in Tregaron, and being a musical young lady was encouraged to go to college and take up singing as a profession.
Gentle woman
"For several years she lived abroad, working for a while as a translator (and singing) for the UN in Rome."
Mrs Davies returned to Ceredigion in the 1980s.
Former CND Cymru vice-chair Rod Stallard said Mrs Davies was committed to the movement.
"Olwen was a gentle woman, but she knew what she wanted and was very determined," said Mr Stallard.
"She spent a lot of time at Greenham Common and supported the women there for years."
Mrs Davies was also active in the Chernobyl Children's Project, which supports families in Belarus affected by the nuclear disaster.