Wales Rally GB 2011 gets under way in Llandudno, Conwy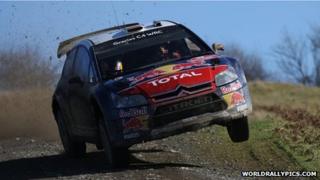 The Wales Rally GB has begun in Conwy, with stages around the Great Orme in Llandudno, the first time it has visited north Wales since 1996.
The four-day, 350-mile (563km) rally will continue through mid Wales, finishing in Cardiff on Sunday.
Within minutes, French driver Sebastien Ogier crashed out, losing a wheel on his Citroën, 1.6km (1mile) into the first stage.
It is is the 13th and final round of the FIA World Rally Championship.
The beginning of the first stage at the Great Orme was reported to be dry but conditions quickly became wet and slippery. Petter Solberg also damaged the right-rear of his Citroën, clipping a kerb.
The rally will follow a route through the forests and the military ranges of mid Wales, before finishing in Cardiff on Sunday.
It is the first time the rally has visited Llandudno since since 1981 - when the event was called the Lombard RAC Rally and finished in Chester rather than Cardiff.
In Llandudno, the main shopping street, Mostyn Street, was closed to allow for final preparations.
Conwy councillor Graham Rees said 67 million people would watch the event on TV, providing a "tremendous boost" for "north Wales in general".
Street musicians
Hotels have reported a thriving trade, with one manager claiming he could have filled his twice.
Mr Rees, who is responsible for large events in Conwy, said: "The rally's been through 80 different countries and 67 million people will actually see the Welsh stages of the rally, which is a tremendous boost for not only Llandudno and Conwy, but for north Wales in general."
The official opening ceremony is being held in Conwy, where a medieval torch parade will take place, and shops will remain open until 2000 GMT.
Toby Tunstall, chairman of Conwy Chamber of Trade, said: "We're going to 'medievalise' the town.
"We will have 80 flags flying in the town. There will be street musicians on the high street."
He said the aim was to create "a family atmosphere".
'Tremendously excited'
Andrew Coe, chief executive of Wales Rally GB, told BBC Radio Wales they aimed to showcase the best of north Wales around the world.
"We have been gradually pushing Wales Rally GB further north over the last three to four years," he added.
"We have got a really pan-Wales route.
"We have got four days rather three [with] 23 special stages starting here today around the Great Orme which for anyone who knows that road is probably one of the most spectacular roads in the UK - perhaps even in the world.
"The drivers are tremendously excited. There are some really big names and some of the best drivers in the world."
Mr Coe said they were talking to the Welsh government about the rally and were "close to securing the future of this event".