Powys Lib Dem councillor Richard White joins Tories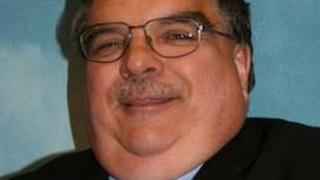 The Liberal Democrat and independent coalition running Powys council has suffered a defection to the Tories.
Lib Dem Richard White, who represents Newtown, has criticised the authority's spending record on consultants.
The council spent £6.1m on consultancy fees last year, a rise of more than £6m since 1999, and it has said consultants save money on larger projects.
The defection does not affect the balance of the Lib Dem/Powys Independent Alliance coalition.
Mr White said his decision to join the Conservatives was taken after a long period of reflection, and he cited the council's spending record as one of the reasons for his decision.
He added: "I found it very disappointing that Powys County Council last year spent over £6m on consultants - that's more than it spends on sixth forms.
"It is clear to me that the council cabinet needs to reassess its priorities."
Powys council said in September that it spent £350m a year and consultants saved money on larger projects.
A spokesman said without their help some projects would not go ahead.
Powys council cabinet member for finance, Tony Thomas, said: "We use a number of framework agreements with specific contractors to deliver various design and construction projects as and when needed."
He said the agreements reduced the number of external contractors and were more economical.