'King of horror' Vincent Price honoured at festival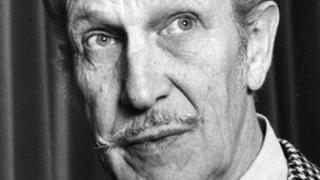 The daughter of "the king of horror" Vincent Price is the guest of honour at a film festival in Aberystwyth this weekend.
But Victoria Price hopes to convince his movie fans there was far more to him than the dark side of his villainous roles.
The centenary of the birth of the debonair Hollywood star, who died in 1993 aged 82, is being celebrated this year. It includes events at the Abertoir Horror Film Festival.
Ms Price, 49, is giving a behind-the-horror view of her father, who in latter years was introduced to a new generation of fans in Michael Jackson's iconic Thriller "rap" video and in Edward Scissorhands, with film maker Tim Burton.
She also hopes to learn more about his Welsh ancestry at the National Library of Wales.
Mellifluous voice
"My great grandfather [Vincent Clarence] Price was born in New York and invented baking powder in the 1830s. I assume the Price family moved to the United States in the early 1800s or late 1700s," she said.
"Mum and Dad went to Wales when I was very young and I remember the long signs.
"My mother was born in Broadhaven (Pembrokeshire), although she was not Welsh.
"Her father was Scottish and her mother was English. We travelled to Wales to see where she was born when my father was filming in the UK once."
Known for his mellifluous voice, Price was also a connoisseur of fine art, and donated many pieces of artwork to worthy causes. He wrote a number of books on the subject too.
He had a wicked sense of humour and was a keen chef, said Ms Price.
Price was born in St Louis, Missouri, to a wealthy family, but he refused to go into the family business, and decided on an entirely different career path.
His big screen debut was Service de Luxe in 1938 and his first venture into horror came a year later in Tower of London, which starred Boris Karloff and Basil Rathbone.
But it was not until the 1950s that he turned more to horror movies, starting with House of Wax in 1953.
The Mad Magician, The Fly, House on Haunted Hill and The Return of the Fly followed, and in between Price found time for the epic, The Ten Commandments.
In 1964, he shot The Masque of the Red Death in which he used his famous sinister laugh. He reintroduced it to great effect in 1982 on one of the most famous pop songs of all time, Michael Jackson's Thriller.
Lifelong passion
Price performs what has been described as a "sinister rap" in the video, and it ends with a similar version of his spine-chilling laugh from The Masque of the Red Death.
"He met Michael Jackson when they appeared on the same talk shows and he knew Quincy Jones (Thriller's producer) through Quincy's wife," Ms Price said.
She added that she thought Thriller was written with her father in mind.
In the same year, Price provided the narrator's voice for Vincent, a six-minute film by Tim Burton about a young boy who dreams he is Vincent Price.
His horror classics, The Masque of the Red Death, The House of the Long Shadows and The Haunted Palace, are being shown at the Abertoir festival.
"They're showing Masque of the Red Death and they're having a costume party around that. I'll be taking questions and giving a talk about my father's life (on Sunday)," Ms Price said.
"My father lived an extraordinary life. He was unendingly giving and generous.
"It will probably interest people to know that he was a Yale and University of London-educated art historian and he had a lifelong passion for the visual arts.
"He would travel the United States giving talks about art and would visit 60 cities in 65 days. He did this for 30 years."
Tattoos
He donated 2,000 pieces from his extensive art collection to a Los Angeles college.
They hang in the Vincent Price Art Museum on the college campus, which is one of the actor's most enduring legacies.
"I believe art saved his life. It gave him a glimpse of life outside middle class St Louis, and allowed him to believe he could have that life. So, he wanted other people to have that too," Ms Price added.
She explained how she had travelled all over north America speaking about her father and celebrating his centenary.
"People have been turning up in droves. I've had long lines of people who want to share their memories of him with me," she said.
Simple acts of kindness
"I have met nine people with tattoos of my father on prominent parts of their bodies and I've met people who have named their children after him.
"Creative people tend to like gothic and horror films and they are their biggest fans.
"I've met people who said the reason they became an actor was because they'd met my father or he'd visited their town to give a lecture or they were inspired by him because he'd commissioned a piece of art from them.
"I've learned from his simple acts of kindness, his curiosity and generosity of spirit and this informs me everyday of my life."
Price made many of his horror films in the UK.
"We spent a lot of time in London, which I loved, and I have lots of fond memories," Ms Price said.
"When he was filming Theatre of Blood (in London) we had a driver.
"As we were getting out of the car one day some homeless people appeared and they started pawing at me an asking for money but it turned out my father had persuaded some of the film's cast members to play a joke.
"He had a great sense of humour. He was a practical joker and enjoyed a good laugh."