Ex-Ashley hotel Llangoed Hall Hotel in administration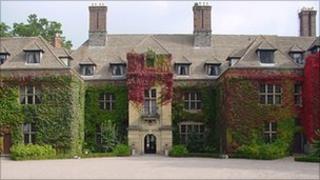 A four-star hotel formerly owned by Laura Ashley co-founder Sir Bernard Ashley has gone into administration.
PricewaterhouseCoopers (PwC) has been appointed administrators of Llangoed Hall Hotel Ltd and Llangoed Properties Ltd, which are based near Brecon.
The hotel was bought by von Essen Hotels last year, but the group went into administration in April.
PwC blamed the current economic climate for Llangoed's problems, but said a buyer was being sought.
The administrators said the business would continue to trade and aimed to honour deposits paid for wedding bookings.
However, where bookings are cancelled the administrators will not refund deposits.
Continue trading
One of the administrators, Karen Dukes, said the current economic climate facing the industry had presented significant challenges for Llangoed Hall, and it had found trading conditions difficult for the last two years.
"Our immediate priority now is to review all options for the company," she said.
"Whilst a buyer for the business is sought, we expect to continue trading and we will look to work with the company's existing management team, suppliers, employees and customers to try and ensure that a solution is found to take the business forward."
James Whistler
Sir Bernard, who died in 2009, opened Llangoed as a hotel in 1990, and it was bought by Von Essen last year.
The acquisition included Sir Bernard's private art collection of 20 drawings by American James Whistler.
Dating back to 1632, the 23-bedroom property sits in acres of landscaped gardens near the village of Llyswen.
From humble beginnings at the Old Railway House in the village of Carno, near Newtown, Laura Ashley grew to have 5,000 retail outlets worldwide.
In 1984, the firm opened its new company headquarters in Newtown, creating 500 jobs.
But in the 1990s its fortunes faded, and in 2004 its former headquarters in Carno closed.
Laura Ashley died in an accident at her daughter's home in 1985.