Powys council chief executive's plea over injured otter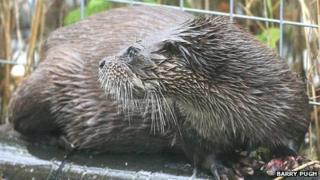 A council chief executive is appealing for help to find an injured otter who has become something of a local celebrity.
The animal has been seen limping from a damaged paw near a lake behind Powys council's offices in Llandrindod Wells.
The authority's chief executive Jeremy Patterson emailed staff on Wednesday appealing for information about the otter, so it can be treated.
The animal has been drawing admirers to the town lake.
Powys council biodiversity officer Emma Guy asked people to contact the council as soon as they saw the animal so a vet could be called.
To avoid causing the animal further distress, people have been advised not to approach it.
She said it was unclear whether the otter had been hit by a car or had a thorn in its paw.
But local wildlife photographer Kevin Joynes, who with his friend Barry Pugh has been taking pictures of the animal, said the otter had not been run over, but had "scraped his knuckles".
"The otter has certainly become a local celebrity and people have taken quite a shine to it," said Dr Guy.
"It doesn't appear to be intimidated by people at all. There are reports that it sniffed a boy's shoe, and there was quite a crowd watching it the other day."
Dr Guy said otters were normally shy animals and tended to avoid people at all costs.
A mother and up to four otter cubs used Llandrindod Wells in the spring, but disappeared in the summer.
"In the last few weeks this lone otter has appeared and we're not sure whether it's one of the cubs returning or the mother," Dr Guy said.
Thousands of fish died in 2006 when blue-green algae starved Llandrindod Wells lake of oxygen, but it has since been restored.
Restoration work cost more than £400,000, and specialist aquatic engineers were hired in 2008 to help with the project.