Mystery as blue shark found on Aberystwyth road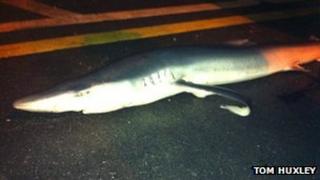 People in a town famous for not having any traffic wardens were surprised to find a dead shark on double yellow lines.
Bank worker Tom Huxley spotted the 4ft (1.2m) blue shark in Aberystwyth.
Mystery surrounds how it ended up on the seafront road but the Shark Trust said it was unlikely to have been washed up.
Mr Huxley found the carcass on 24 October and it was removed within hours.
Mr Huxley, 22, a former student at Aberystwyth University, said he had been visiting a friend and on his way home with his partner when they made the discovery.
"We left our friend's home at about 11pm and all we could smell was rotting fish," said Mr Huxley, who works for NatWest in the town.
"Soon afterwards we spotted the shark on double yellow lines.
"We have no idea how the shark ended up on the road. I don't think it was a prank. We were told it was a blue shark.
"We thought it was ironic the shark was found on double yellow lines at a time when Aberystwyth has no traffic wardens."
Ceredigion council has been asked if they were called to remove the shark, but it is yet to respond. Dyfed-Powys Police said they had no record of being involved.
John Richardson, conservation officer with the Shark Trust, said it was uncommon for blue sharks to wash up on shore.
'Not common'
"They are one of the more common larger sharks in British waters and are usually found about 15 to 20 miles out at sea," he said.
"They usually grow to about 4m in length, so the one found on the road probably wasn't a mature shark.
"It's not unheard of for blue sharks to wash up, but it's not common because they're usually found so far out at sea."
Mr Richardson said blue sharks were one of the most heavily fished in the world.
The species is perhaps the widest ranging of all sharks and in the eastern Atlantic is found from Norway to South Africa, and rarely, if ever, found in near shore waters, he adds.
Aberystwyth has had major parking problems since its two traffic wardens stopped working in May.
Control is moving from traffic wardens run by police, in line with other areas, but Ceredigion council said in May it would take about a year to put its system in place.