Powys 'super dairy' is set for approval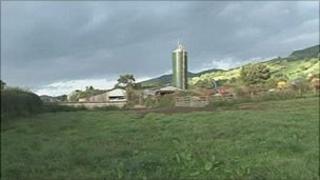 Controversial plans for a "super dairy" in Powys are likely to be approved after councillors ignored advice to reject it.
Farmer Fraser Jones plans to build the dairy for 1,000 cattle at Leighton near Welshpool.
Powys Council's planning committee said it was "minded to approve" the application subject to a report on "outstanding issues".
The development is still opposed by a number of interested groups
The planning committee members voted twice. The first vote saw six councillors in favour and five against.
Obstacles
The second vote was on a motion that "the committee is minded to approve the application subject to a report coming back to committee on outstanding issues". This was also passed by six votes to five.
Afterwards Mr Jones said: "I'm very excited and relieved.
"I've put a lot of hard work in, and my agents, to overcome a lot of obstacles, and I'm glad the councillors saw the sort of work we'd done to overcome the difficulties.
"We've got some conditions to meet, internal road access is the main one."
He added that he wanted the project to be a success and was willing to do what he could to make it so.
Council officers had recommended that planning approval should be refused.
Groundwater
A council report said Mr Jones's application had been rigorously scrutinised, but concluded that the scale, location and impact of the development "fundamentally conflicts" with the development plan.
It added that the parlour would have a visual impact locally on listed buildings, would affect views from nearby Powis Castle, and would impinge on Offa's Dyke.
The Environment Agency raised concerns about groundwater and how manure would be managed after the project was first unveiled in August last year.
Mr Jones said in February that he had addressed these worries after withdrawing a first application.
The agency had no objections against the latest proposals, along with Powys environmental health services and Powysland Internal Drainage Board.
But the development is still opposed by the Countryside Council for Wales, the historic monuments agency Cadw, the Campaign for the Protection of Rural Wales, the National Trust and Powys Teaching Health Board, which is concerned about air quality.
The council report said: "The site is located within a vicinity which is sensitive in terms of its proximity to and its visual relationship (to) heritage assets including listed buildings, a registered landscape and a scheduled ancient monument."
Compassion in World Farming claimed last year that Mr Jones's plans were factory farming.
He denied this and said his animals' health would be monitored all the time, and he claimed the dairy would improve milking conditions.
But Mr Jones has said his cows will be inside for 250 days of the year.
The council said it received a high number of objections to the original application, and an action group was formed locally.
The planned dairy is next door to homes and a primary school.