Bypass progress 'major barrier' to Newtown business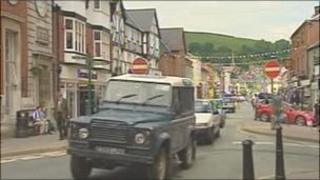 Slow progress on a long-awaited bypass in Powys is becoming a major barrier to business and frustrating residents, claims a senior councillor.
A year ago the Welsh government revealed the planned route for the bypass in Newtown, which is expected to ease its major traffic problems.
But Powys Council cabinet member Wynne Jones is seeking reassurance the scheme has not slipped down the priority list.
The Welsh government says it will appoint technical advisers this autumn.
Mr Jones said council leader Michael Jones would write to First Minister Carwyn Jones about the local authority's concerns.
Drivers have long faced tailbacks in Newtown, but there are complaints problems have grown since traffic lights replaced a roundabout near a Tesco supermarket.
Former Deputy First Minister and Transport Minister Ieuan Wyn Jones announced the preferred bypass route last year.
He said it would not only improve journey times and reduce accidents, but would also help further the economic development of the town.
Work is expected to start on the road scheme in 2014.
But Mr Jones, Powys Council's cabinet member for regeneration, said: "It has been more than 12 months since the then Welsh government deputy first minister announced the preferred route for the bypass in the town saying its development was import for economic regeneration.
"The lack of progress or accurate information is not only deeply frustrating to business and residents in the region but becoming a major barrier to regeneration.
"Uncertainty over progress is preventing businesses developing medium and long term plans."
He said the council would be writing to the first minister seeking re-assurance that a change of Welsh government has not seen Newtown's bypass plans slip down the pecking order.
Mr Jones added: "We need to know that the scheme has not been forgotten.
"Businesses need to know what is happening so that they can plan for the future. Delays and uncertainty could undermine future plans and put jobs at risk."
The Welsh government will appoint technical advisors for the bypass this autumn.
This will be followed by the appointment of the design and build contractor in summer 2012.
A Welsh Government spokesman said: "The minister for transport is currently prioritising the National Transport Plan and will publish a rescheduled delivery plan this autumn which will include plans for the Newtown bypass."