Aberystwyth planner Mark Strong warned for giving views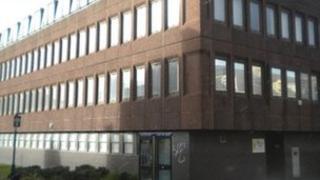 A council's chairman of planning has been rebuked for remarks he made to BBC Wales about plans to convert a UK government office into student flats.
Aberystwyth town councillor Mark Strong was accused of speaking out over proposals for Crown Buildings before a vote.
The plans were refused by the town council, but Mr Strong will not take part in any subsequent discussions.
Mr Strong was asked to leave the meeting before the decision was made.
In his comments on the BBC News website last week, he said Crown Buildings had a lack of parking and noise from students would be a problem.
Following his remarks, Mr Strong, who represents Aberystwyth North ward, said he had been accused of predetermination over the application in Northgate Street, a former Department for Work and Pensions and passport office.
According to official guidance, predetermination is where a councillor's mind is closed to the merits of an argument which differs from their own about an issue on which they are making a decision, such as planning permission.
The councillor makes a decision on the issue without taking them all into account.
This impression can be created in a number of different ways such as quotes given to the media, and what they have said at meetings or written in correspondence.
Mr Strong said: "I had to leave [last Monday's] meeting because advice from One Voice Wales [an organisation representing town and community councils] said that I had been guilty of predetermination by having spoken to the BBC about the Northgate office.
Sanction
"Keeping to such guidelines means that you can be accused by electors of sitting on the fence and not representing them.
"Speaking out means that you can be barred from voting or risk being taken to the ombudsman.
"Yet other parts of the community can release information to the press at will, and are able to plug to their hearts content and can market their point of view without apparent restriction.
"Yet those who have been elected by the people often appear to be undermined and frustrated at every turn."
Town council clerk Jim Griffiths said in the interest of the town council, Mr Strong had been advised that he should not take part in any planning discussions over Crown Buildings.
Mr Griffiths added: "Should he choose to ignore this advice he could be facing sanction from the local government ombudsman, should a complaint be made."
Tai Cantref housing association propose converting four-storey Crown Buildings into 63 student flats.
The building has been vacant since the passport office closed in August.