Powys patients get closer trauma unit in Shrewsbury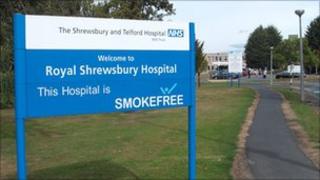 People with major injuries in north Powys who have to travel more than an hour to the nearest trauma unit are to be treated closer to home.
The Royal Shrewsbury Hospital, which cares for thousands of people from mid Wales, is introducing the unit.
The nearest trauma centres for north Powys are in Stoke on Trent and Birmingham, over an hour's drive away.
The RSH trauma unit is part of new regional arrangements for treating people with serious injuries.
Powys has no district general hospital but is served by the Royal Shrewsbury Hospital (RSH), Princess Royal Hospital in Telford, which are both in Shropshire, Wrexham Maelor, Bronglais in Aberystwyth, and Hereford County Hospital.
Shrewsbury and Telford Hospital NHS Trust said people in Shropshire, Telford and Wrekin and mid Wales would have better access to potentially life-saving services.
'Clear need'
Mark Prescott, emergency medicine consultant at the trust, said: "Establishing a trauma unit in Shrewsbury will allow us to make sure seriously injured patients can get the right life-saving care as quickly as possible.
"Seriously injured patients will be brought to us and received by a consultant-led team for resuscitation, and then either treated here or transferred onto a major trauma centre as their condition dictates."
Mr Prescott said the RSH served a population spread over large area, and many people lived "some distance away from the major trauma centres and there is a clear need for an outpost trauma unit here".
Montgomeryshire MP Glyn Davies said: "It's hugely encouraging that the Royal Shrewsbury Hospital has been designated as a trauma unit.
"There was a real danger that this would not happen, and that the nearest trauma hospital for Montgomeryshire patients would be Birmingham."
Mr Davies said the RSH was also introducing an enhanced vascular screening programme.
The service will be known as the abdominal aortic aneurism programme, and it will lead to many lives of those with heart disease being saved, added the MP.
Shrewsbury and Telford Hospital NHS Trust is looking at reorganising services at the RSH and nearby Telford hospital.
Consultant-led maternity and in-patient paediatric treatment could move to Telford, while the RSH could specialise in surgery.