One primary may replace three Ceredigion schools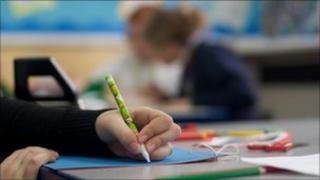 The future of three Ceredigion schools is uncertain after the announcement of an option to build an area primary.
The proposals affect schools in Cwrtnewydd, Llanwenog and Llanwnnen, near Lampeter.
Ceredigion council says an area school is an option, but no decision has been taken.
Earlier this year the local authority agreed to shut four primaries and build a replacement at Brynhoffnant, near Llandysul.
The council has said previously that pupil costs and empty places has forced it to re-examine its education policy.
A public meeting for parents and school governors from Cwrtnewydd, Llanwenog and Llanwnnen schools was held in Lampeter on Tuesday.
A council spokeswoman said an initial meeting was with the governing bodies of the three schools to discuss the way forward on the "strategy for developing primary provision across the county".
She added: "The situation in the area was discussed and an area school was proposed as one option.
"We shall undertake a series of meetings to consult informally regarding this option over the next few weeks."
Last year, the council unveiled plans for two so-called "all-through" schools in Llandysul and Tregaron, educating children from three to 19.