Row over Cardigan Junior School Welsh-only plan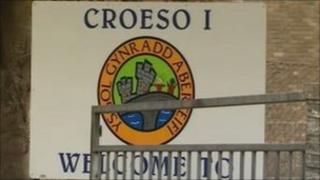 A row has broken out over plans to phase out teaching pupils in English at a Ceredigion primary school.
At the moment parents can choose if their children at Cardigan Junior School are taught in English or Welsh.
Over 1,000 people have signed a petition against the change but supporters say only a small number are taught in English.
A meeting is due to take place at the school later for parents to question the head teacher and governors.
Two weeks ago a letter was sent out detailing plans to phase out English-language education.
The changes will not be fully implemented until September 2019 and will not have any impact on pupils that are already in the English-language stream.
Sharon Griffiths, who opposes the move, said the school was the only one in the area offering English-language education.
Comprehensive level
"We all deserve to have a choice and they are taking away that choice," she said.
"If we wanted to put our children into a Welsh school there are schools in the area that offer a completely Welsh education."
She said she feared it may eventually lead to the phasing out of English-language education at comprehensive level in the area.
Ceredigion council, head teacher Robert Jenkins and the school governors all declined requests to be interviewed by BBC Wales ahead of Wednesday's meeting.
However, Mr Jenkins did say that only two pupils from more than 30 in year one were studying in English this year and the rest were being taught in Welsh.
Consultation
Parent Mark Ellis Jones, who has two children at the school, supports the change.
"The school is making a recognition of what is happening already," he said.
"The vast majority of parents are sending their children to the Welsh stream.
"It's only a handful of parents who do not choose to do so and it can't be cost effective for a school to do that.
"For the people who oppose what's happening - they say they want to exercise their choice but they are denying their children the choice of being able to be fluent Welsh speakers and being a full part of the community."
After Wednesday's meeting there will be an informal consultation period on the proposals.