Consultation starts on Lake Vyrnwy estate future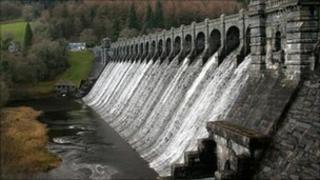 Consultation has begun on the future of the vast Lake Vyrnwy estate in Powys.
Severn Trent recently named United Utilities and RSPB Cymru as preferred bidders to develop the site.
The Countryside Council for Wales (CCW) is seeking information on all scientific, historic and conservation interests in the land.
The sale includes 12,000 acres of farmland and 5,000 acres of forestry, and is described as the largest in living memory in Wales and England.
The three-month consultation will see the CCW contacting the Welsh Government, historical monuments agency Cadw, local authorities, Snowdonia National Park Authority and the Environment Agency for specialist information as part of its statutory duty.
It will then decide whether to impose conditions on how the heritage aspects and public access of the estate are managed in the future. Severn Trent will have to comply with these conditions before disposing of the land.
Sustainable
The consultation is not public but anyone with issues to raise should contact one of the consulted organisations.
The land, with a value of £11m, includes 12,000 acres of farmland and 5,000 acres of forestry.
Parts of the plot being offered for lease are entitled to special protection and include Sites of Special Scientific Interest (SSSI), a Special Protection Area (SPA) for birds and a Special Area of Conservation (SAC) for its outstanding upland habitats.
Tim Jones, CCW north Wales regional director, said: "The uplands around the lake are very important water catchments - managing them in a sustainable way is important for communities in lower lying areas.
"The upland habitats, such as blanket bog and dry heath, are of international importance and support a wide variety of upland birds.
"These uplands need to be carefully managed to safeguard them for the benefit and enjoyment of generations to come."