Sheep rustling increases as price of lamb hits new high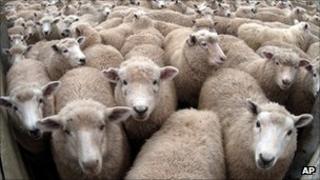 Farmers are being urged to be vigilant after sheep rustling incidents across the UK almost doubled in six months.
The Farmers Union of Wales (FUW) says rustling has "escalated significantly in recent years".
It has joined forces with the National Farmers Union (NFU) Cymru and others to launch Farm Watch to cut crime.
According to NFU Mutual, the insurance wing of the National Farmers' Union, 32,926 sheep have been stolen from farms across Britain since January.
The surge in sheep thefts has been blamed on the high price of lamb.
A total of 38,095 sheep were stolen in Britain throughout 2010, but that could be higher, as a third of farmers are not represented by the company.
According to the National Sheep Association, sheep now sell for an average of £75 each, more than double the price three years ago. Prize breeds can sell at auction for thousands of pounds.
The price of minced lamb has risen by almost 30% since 2008, from £6.59 to £8.50 per kilogram.
The FUW, NFU Cymru, Dyfed-Powys Police, and Ceredigion council are involved in Farm Watch, which aims to improve communication between farmers and police.
Adrian Evans of the FUW in Ceredigion said: "Many of our members have suffered major losses as a result [of rustling].
Value of livestock
"Although we don't have any specific figures for Wales, we know via insurance claims made through the FUW that sheep rustling has become more extensive across Wales."
He added that the problem was mostly driven by "the increase in the value of livestock".
NFU Cymru warned livestock farmers to be on their guard for sheep rustlers.
Aberystwyth group secretary Rhys Davies said: "It is deeply worrying for livestock farmers that this type of activity is starting to form an upward trend.
"We now have a significant number of sheep thefts that have occurred throughout the county.
"Sheep rustling and farm theft is a serious criminal activity which costs farmer's dearly, both in terms of direct losses and its knock-on effect on raised insurance premiums."
Dyfed-Powys Police neighbourhood policing team officer constable Hefin Jones said: "These are serious offences which can have a significant impact on the livelihood of the victims and the rural community at large."
He added that police officers will be stepping up patrols in the area and making vehicle stops in a bid to provide reassurance to farmers.