Dyfi estuary osprey chicks have satellite trackers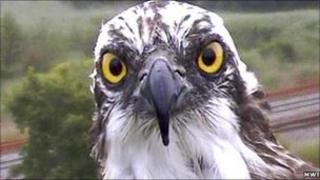 Three osprey chicks born in a man-made nest on a Powys nature reserve have been fitted with satellite trackers to follow their flight to Africa.
Reserve staff have also been able to ring the birds and learn their sex.
"We now know that we have two males and one female," said Emyr Evans of Montgomeryshire Wildlife Trust's Dyfi Osprey Project.
The sat nav will enable the Powys team to gather detailed information about the birds' migratory pattern.
The birds are thought to be the first ospreys bred in the Dyfi Valley in 400 years.
Their nest is built on top of a 50ft (15m) telegraph pole, and two years ago they attracted 25,000 visitors.
Dyfi Osprey Project claims that ospreys were last recorded breeding in the area in 1604.
That changed in April this year when a male called Monty returned from his African wintering grounds and three days later attracted a female, Nora, was born at Leicester and Rutland Wildlife Trust in 2008.
They produced three eggs which have all successfully hatched.
The chicks have been named after local rivers that flow in to the River Dyfi. The female is called Leri, and the males Einion and Dulas.
Visitors to the reserve have been following the ospreys' family life via two nest cameras, showing footage on three live screens.
Mr Evans led the team which visited the nest to ring the birds and fit the satellite trackers.
He sad: "It only took an hour. They were exceptionally healthy birds. They have been fed well in their first six weeks."
He said the adult birds were flying round while the team were at the nest.
He added: "I wouldn't say they were happy. They were having a look but ospreys are not particularly aggressive birds."
It is expected the chicks will make a 3,600-mile migration to Africa in September.
The solar-powered satellite trackers will report their height and location to within a few metres once every hour.
The BBC is funding trackers for two of the chicks, and the osprey project ran an appeal to pay for the third.