Dyfi estuary ospreys nest: Police plea to stay away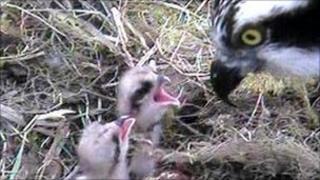 Police are advising the public not to try to find the site of an osprey nest in the Dyfi estuary, on the boundary of mid and north Wales.
They say people risk disturbing the birds and are putting their own lives in danger by walking along rail tracks.
It is the first time in 400 years ospreys have bred at the site, says the Montgomeryshire Wildlife Trust.
Anyone interested is advised to visit the Dyfi Osprey Project at Derwenlas, near Machynlleth.
The trust had been waiting two years for breeding when at Easter two adult ospreys - Monty and Nora - produced three eggs.
Wales' other breeding ospreys are in Glaslyn Valley near Porthmadog, Gwynedd.
The warning to keep away from the nest comes from Dyfed-Powys Police and British Transport Police.
"The Dyfi Osprey Project has been working tirelessly for the last three years to reintroduce the osprey bird to the area," said Matthew Howells, the wildlife crime and environmental sergeant for Dyfed-Powys Police.
"The project hosts only the second breeding pair of ospreys in Wales and is therefore vital in the survival of the species in Wales and the UK.
"This year three chicks have successfully hatched out, not without incident though," he added.
"People are breaking the law by trespassing on the railway tracks, which is punishable by a fixed penalty," he said.
"Osprey birds are protected under Schedule 1 of the Wildlife and Countryside Act 1981 as are their nests and chicks," he added.
Sgt Howells said anyone who "intentionally or recklessly disturbed the nest could be arrested, and possibly prosecuted for any offences".
"The Osprey Project, as featured on the recent Springwatch Live series, will welcome any visitors through their doors," he added.
"It is the safest way to find out more about the osprey, reducing the risk towards the birds and chicks," he added.