Four Powys schools likely to win reprieve from closure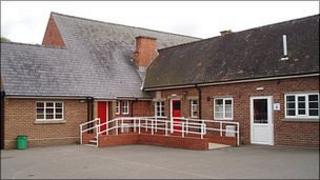 Four primary schools in Powys which were threatened with closure are expected to win a reprieve.
Earlier this year Powys council announced that 11 schools with fewer than 30 pupils were facing closure.
But following a review it recommends that Castle Caereinion, Llanfihangel Rhydithon, Nantmel and Ysgol Pontrobert are taken off the list.
However, a proposal to shut three schools goes before the council's cabinet in July.
Councillors will be asked to approve "formal consultation" to close Cwmdu, near Crickhowell, Dolfor, near Newtown, and Trefnanney, near Welshpool.
The recommendation to keep Castle Caereinion, Llanfihangel Rhydithon, Nantmel and Ysgol Pontrobert open will be decided at the same meeting.
The Powys cabinet member for schools, Stephen Hayes, said the council would continue to monitor pupil numbers and look at ways of reducing surplus places.
He said: "The authority has been reviewing a number of small schools to make sure it is making the most efficient use of resources and providing a sustainable primary school structure.
"The number of pupils entering our schools is falling and we are facing a significant problem of surplus places."
The council could save £300,000 by closing the three schools, Mr Hayes added.
"Closing a small school is not an easy option but it is a decision that has to be taken in the best interests of all our pupils," he said.
Castle Caereinion head Huw Jones said it was "excellent news" his school was likely to be saved.
"We were always confident we would be taken off the list because we didn't meet the council's criterion," he added.