Lu Corfield's journey from Welshpool to Candy Cabs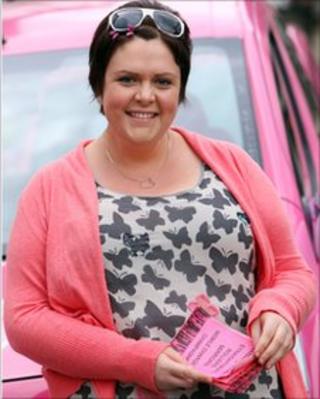 As a high school head girl and "straight As student", Lu Corfield's life seemed mapped out and she was all set to read English at university.
But life changed dramatically for her when she was bitten rather hard by the acting bug.
In the years that followed she questioned her decision to tread the boards, but her diligence has paid off with her breakthrough role in the BBC One comedy drama Candy Cabs.
The 31-year-old played sweet-natured Big Pam, and her character has caused something of a sensation on Twitter, with Corfield, originally from Four Crosses, near Welshpool, Powys, receiving kind messages from fans.
She said 2011 had been her most successful year as an actor, and with the hint of a second series of Candy Cabs, a regular spot on the BBC's daytime drama, Doctors, and the possibility of a sketch show on BBC Three, it looks like the future is bright.
But it's Candy Cabs that has set Corfield, a graduate of The Royal Academy of Dramatic Art (Rada), on the road to stardom.
It tells the story of an unlikely pair of women who embark on a business adventure and start a cab company run by women, for women.
It featured a cast led by EastEnders actress Jo Joyner and comedy star Lisa Millett, including Paul Nicholls, Denis Lawson, John Henshaw, Jodie Prenger, Paul Kaye, Claire Sweeney, Melanie Hill, Tom Goodman-Hill, Daniel Ryan and Ricky Whittle.
Corfield said it was a "wonderful experience".
She said: "I received a call saying they wanted to see me for the role of Big Pam.
"I was filming [BBC Two sitcom] Rev with Tom Hollander, but managed to drive to Manchester and had 10 minutes with the producer and executive producer.
"On my way back to London I thought I had messed that up royally, but I got a call that evening and was told that I was down to the final two, was I interested, and it would be a quick turnaround.
"I had another call the next morning to say I'd got the role and was told to get up there [to Manchester] that night.
"I was spray tanned, my hair was dyed and I was on set.
"It was a wonderful experience - it is the biggest thing I have done to date."
She said Candy Cabs had a great cast and she particularly bonded with Paul Kaye -probably best known for his comedy character Dennis Pennis - and Melanie Hill, who starred in the BBC comedy Bread and the comedy drama, Auf Wiedersehen Pet.
Since Big Pam hit the small screen her Twitter account has been busy as well.
"I had a Twitter account, but didn't do much with it. But since Candy Cabs I've been starting to get lots of messages," she said.
So what about a second series of Candy Cabs?
"Everything's pointing positively to a second series. I would be delighted to do it and it would be great if we received the thumbs up from the BBC."
Corfield was bitten by the acting bug at Welshpool High School, where she was head girl.
She wanted to study a subject that would aid her first love, English. She had always enjoyed reading Shakespeare, so decided to study drama.
But she soon realised that drama, and not English, was where her future lay. She joined Montgomeryshire Youth Theatre, where she met her mentor Ginny Graham, and said she felt excited and as though she "belonged".
Following A levels, she took a year off from study to pursue her acting career. She approached Amnesty International as what she called a fearless 18-year-old, and she said she convinced them to set up a theatre education company, with which she toured for two years.
Then came three years at Rada and living in London, but after some small parts on TV the job offers started to dry up.
"After five years of doing a few small acting jobs I was thinking of giving up," she said.
"I wanted to stay in London, but the work wasn't consistent. I was working hard to pay my way by pulling pints, cleaning and working a night shift at a call centre."
She decided to give it one last chance with a new agent, and since 2008 she's been working regularly.
Her latest role is a regular spot on BBC One's daytime drama, Doctors. She plays a confident, career-hungry trainee GP, and her episodes start being aired this week.
There is also the possibility of sketch show on BBC Three with her friend Kerry Howard, the sister of the comedian Russell Howard.
Corfield lives in London with her fiance Sion Owen, an old school friend from Welshpool.