BBC Springwatch to come live from Ynys-hir reserve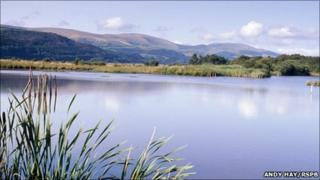 BBC wildlife programme Springwatch is to come live from a mid Wales nature reserve this year, it has been announced.
For three weeks, the programme will be based at RSPB Cymru's 700 hectare Ynys-hir reserve near Machynlleth, with the backdrop of the Cambrian Mountains.
More than 50 secret mini cameras will be used, some powered by solar panels.
Live pictures will be broadcast from the reserve's heronry of nesting grey herons and little egrets.
Kate Humble, Chris Packham and Martin Hughes-Games will be again presenting the live show, which will include films recorded at the reserve on the Ceredigion-Powys border and beyond.
Mike Clarke, RSPB chief executive said the organisation was delighted that the team had chosen Ynys-hir as a new location, especially as the RSPB celebrates 100 years in Wales this year.
'Motivating'
"Springwatch does a fantastic job of inspiring millions of people about wildlife," he said.
He added that many of the RSPB's members, volunteers and staff loved watching the programme "as do my family".
"What's especially important about it is how it encourages people out of their armchairs to enjoy wildlife firsthand," he said.
"We know that these personal encounters with nature are a crucial factor in motivating people to step up and save it," he added.
In all nearly 40 miles of fibre optic cables will be used for the live show.
The programme has spent the last three years in Norfolk and the Powys location provides a host of different habitats to explore from oak woodland to wet grassland and saltmarshes.
As well as the herons and egrets the programme will be looking for great and lesser spotted woodpeckers and birds of prey such as the buzzard, goshawk and red kites.
There are also plans to track down the 19 species of dragonfly, 26 species of butterflies and over 400 species of moths as well as reptiles such as grass snakes.
Russell Jones, the Ynys-hir warden said there was great excitement that the programme had decided to base itself at the reserve.
"The variety of habitats will ensure that there is plenty to see and we hope that the birds and the other wildlife will not be too camera shy," he added.
The programme will also see Welsh wildlife expert Iolo Willams and Springwatch teams visit Skomer Island, just off the western tip of Pembrokeshire.
Camera crews have been on the island from early April to capture the first puffins, razorbills and guillemots arriving back from their long winter at sea.
They have also been on the look out for the day-flying short-eared owl.
They hope to have footage of chicks being born just in time for the live broadcast.
BBC Springwatch returns on 30 May, 2000 BST on BBC Two.