Hundreds of water voles released near Llangorse Lake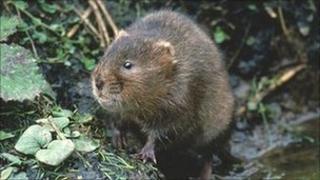 Hundreds of endangered water voles have been released near a Powys lake in a project to boost their numbers.
Four hundred have set up home in an area close to Llangorse Lake, near Brecon, during the past year, and a further 100 will be released soon.
It is claimed that only one water vole had been seen in the area for nearly a decade before the project started.
They were once common in the UK, but their numbers declined in the 1990s and, by 2005, 90% had disappeared.
But the furry animal is showing signs of a comeback. Last year a survey by the Environment Agency said its recovery had been stimulated by an improvement in river water quality.
It also cited success in the control of the water voles' main predator - mink.
Brecon Beacons National Park has been working with Brecknock Wildlife Trust and the Environment Agency to boost water vole numbers, and the mammals released near Brecon were bred at specialist stations.
Another 100 will be released in the next two weeks in the ongoing programme to save the mammals.
The park said the reintroduction project had "far-reaching and long-term benefits for the biodiversity of Llangorse Lake".
Howard Morgan, a Brecon Beacons National Park Authority warden, said: "This project has far-reaching and long-term benefits for the biodiversity of Llangorse Lake and the Brecon Beacons National Park.
"It demonstrates our commitment to providing a safe and protected habitat for some of our smallest and most threatened furry residents."
Water voles are widespread elsewhere in Europe, living in the banks of slow moving rivers, streams and other waterways.
Margaret Underwood, a member of the park authority with an interest in biodiversity, said: "Without our help water voles face a very uncertain future so this reintroduction programme gives them at the very least a fighting chance to bounce back."
Stuart Craxford of the Environment Agency said it was looking to release more water voles at other suitable sites in Wales.
"To complement the releases, we're improving the network of drainage ditches around Llangorse, as well as creating new ponds and undertaking tree management work," he said.
"This will encourage the plant growth that provides the ideal habitat, essential cover and food that water voles need."