ScottishPower extends Powys pylon plans consultation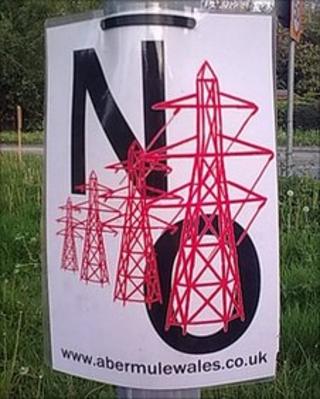 A company behind controversial plans for dozens of electricity pylons in mid Wales is giving the public extra time to have their say.
ScottishPower intends to connect at least 10 planned wind farms to a proposed substation in north Powys.
The firm said consultation meetings had been well attended and they would be extended by six weeks until 20 June.
Plans for pylons and the substation have been criticised and several public meetings have been held.
Hundreds of people attended a meeting in Welshpool on 20 April opposing plans by National Grid to build the 19-acre substation.
Two sites - at Abermule, near Newtown, and Cefn Coch, near Llanfair Caereinion - have been suggested. The National Grid is also holding public consultation meetings.
Opponents say the project cannot be justified because wind turbines are under-performing, while supporters say the machines are reliable and effective.
Pylons are also planned, some measuring 154ft (47m) and spanning 26 miles.
ScottishPower's consultation process will help establish a preferred route for the pylons from the planned wind farms to the substation, which will then be subject to further consultation.
The company's project manager, Steven Edwards said: "The consultation events so far have been very well attended and it is important that we hear as many views as possible."
He said ScottishPower wanted to ensure communities had "as much opportunity as possible to be part of the consultation process".