Award for Noah's Ark Appeal charity worker Les Jones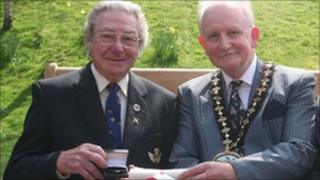 An 80-year-old retired bicycle shop owner has received a special award for raising more than £100,000 for the Children's Hospital for Wales.
Les Jones, from Llanidloes, Powys, was recognised for his work with the hospital's charity, the Noah's Ark Appeal.
Its chairman Lyn Jones described him as an "exceptional man" and a "one-off".
Les Jones was presented with a Silver Kite Award by Powys council.
Lyn Jones said he was pleased Mr Jones had been recognised for his charity work.
"He is a fantastic worker for the Noah's Ark Appeal and must fund raise every day," he said.
"He's an unbelievable guy and puts 100% into everything he does. We have a lot of people around Wales fundraising for us, but he's a one-off. He's an exceptional man."
Mr Jones said Les Jones had recently raised £11,000 for an ambulance trolley, which had specialist life saving equipment.
It was presented to the Children's Hospital for Wales in Cardiff by comedian Max Boyce, on behalf of the people of Llanidloes.
Powys council chairman Garry Banks said: "Mr Jones's wife passed away in 2000 and in her memory he decided to commit his energies to raising money in his community towards the Noah's Ark appeal.
"He felt strongly that Wales needed its own hospital to treat seriously ill children, enabling them to receive the best treatment in their own country.
"His hard work has now raised a figure in excess of £100,000."