Llanidloes reservoir deaths: Man, 23, bailed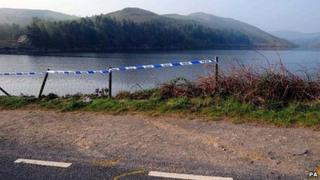 A man has been released on police bail after a car plunged into a reservoir, killing a driver's husband, mother and two teenage foster children.
The woman driver, escaped from the Peugeot 807, which had been in collision with a Ford Mondeo at Llyn Clywedog near Llanidloes, Powys.
But her husband, elderly mother and teenage foster sons died.
A local man, 23, has been bailed on suspicion of causing death by dangerous driving.
Dyfed-Powys Police have appealed for witnesses to an incident between the Peugeot and a Ford Mondeo on Wednesday afternoon.
They said the family, who are believed to be from the Pontypridd area, had been travelling on the B4518 from Machynlleth, where they had been on holiday.
The driver managed to escape but her husband, 66, mother, 84, and foster children - two teenage boys - all died.
Their bodies were recovered with the help of the fire service, a diving team and RAF helicopters.
The car, a Peugeot 807, was later recovered from the water on Wednesday night by a specialist team and taken away.
The other car, a Ford Mondeo, was travelling in the same direction on the B road which skirts the reservoir, when the Peugeot plunged through a small wire fence and over a 20ft (six metre) bank into 30ft (nine metres) of water.
The section of road where the incident happened goes down to the edge of the reservoir and is flanked by rolling hills. It is regarded as a local beauty spot.
The road is also used as a short cut from the main A470 road.
The police inspector in charge of the investigation, Mark Davies, told BBC Wales the Mondeo had been seized.
He said the woman who escaped the Peugeot had remained at the scene while the bodies of her family were recovered, adding she had lost her husband, her mother and two foster children.
It is believed she raised the alarm. She was treated for shock and minor injuries by paramedics and in hospital last night, but suffered no serious injury.
Insp Davies added: "They're a family. They are holidaymakers in Powys. We understand they were travelling back from Machynlleth on the way back to Llandrindod Wells area. I'm not aware if they know the road particularly well."
Police have appealed for witnesses.
Emergency services were called to the scene at around 1430 BST on Wednesday.
A rescue crew on board a Sea King helicopter from RAF Valley, based in Anglesey, also arrived quickly.
Mid and West Wales Fire and Rescue Service said two fire crews and two boats were involved in the operation.
A worker at a nearby car showroom, who did not want to be named, said: "We saw lots of police cars going past, ambulances and two recovery boats.
"The story is one car clipped another and one went into the dam."
She added: "There was an ambulance coming up with its sirens going - it was going out of the valley on its way to either Shrewsbury or Aberystwyth."
Some local people said there had been calls for a safety barrier on the road, following a fatal crash about 16 years ago.
On that occasion, they said a car left the road but was stopped from entering the water by a rock.
The coroner has been informed.