Royal Wedding Welsh crystal gift from the assembly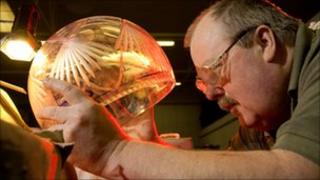 Prince William and Kate Middleton are to receive a specially crafted piece of Welsh crystal as a wedding present from the people of Wales.
The hand designed piece was created by the Welsh Royal Crystal company at Rhayader, Powys.
It will act as an official joint gift from the Welsh Assembly Government and the National Assembly for Wales.
David Thomas of the Welsh Royal Crystal company said it had been an honour to design the piece.
The company has recently changed hands with two employees taking over the running of the firm from the original owner.
The Royal Wedding gift is the first commission for the new owners.
Mr Thomas said: "It has been an honour and privilege for both Alan O'Neill and myself as the new owners of Welsh Royal Crystal to have designed and handcrafted such an important gift for the royal couple and we wish them all the success for their future happiness together."
The prince is due to marry Miss Middleton at Westminster Abbey on 29 April.
The Welsh Royal Crystal company was set up in 1986.