Llandrindod Wells' Victorian festival under threat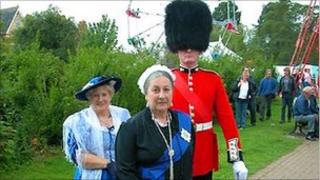 A lack of new blood could mean that a festival in mid Wales celebrating the Victorian era could come to an end.
For nine days every August Llandrindod Wells in Powys looks like the set of BBC TV's Lark Rise to Candleford.
Tens of thousands flock to take part in an event launched in 1982 to mark the town's development as a spa town in the 19th Century.
But the festival's administrator claims a lack of volunteers could mean this year's event will be the last.
"This year marks our 30th anniversary but it could well be the last festival," said 73-year-old Llandrindod Wells Victorian Festival administrator, Sheila Richards.
"There are only five of us organising the event each year and we are all getting on in years.
"We are finding it more and more difficult to get volunteers to help run the event so unless some new blood agree to take over responsibilities then we will have to wind the festival up."
Each August up to 40,000 people visit for the nine-day event which includes street entertainment, a craft marquee, talks on Victorian life and concerts at venues, including the town's own Albert Hall.
Mrs Richards added that the festival's financial future was also in doubt.
"We have secured £3,000 from the town council but we are unsure if we will get our usual funding of £11,000 from Powys Council because of the economic situation," she said.
Llandrindod Wells county councillor Mike Hodges said that losing the festival would affect hoteliers and bed and breakfasts in the area.
"This is a big event for the area and its loss would impact on hoteliers and caravan park sites for a 10-mile radius around Llandrindod Wells," he said.
"But I am hopeful that a phoenix will arise from the ashes, even if the festival will have to be shortened from nine days."
The 2011 festival takes place between 20 and 28 August.