Deal struck over land for £20m Cardigan hospital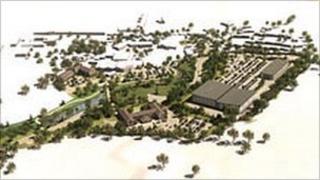 Plans for a £20m hospital in Ceredigion can go ahead after a dispute over a piece of building land has been resolved.
The hospital, which will include a GPs' surgery, is part of the £50m Bath House project, which also includes a supermarket and housing.
Initial plans for the hospital were approved by Health Minister Edwina Hart in September last year.
Hywel Dda Health Board said the land deal was being finalised.
Talks broke down over the sale of the land last June.
The assembly government has said that a number of locations for the replacement hospital have been considered, but the preferred option is the Bath House site.
Ian Bellingham from the health board said they were pleased that they and the landowners have been able to work together to secure the site.
"The aim of the scheme is to establish a purpose built facility, which will provide a new integrated model of health and social care that is flexible, responsive, and allows the greatest degree of independence for people living in and around Cardigan."
Solicitors for the health board and the landowners were in talks and they hoped to finalise the land deal soon, he added.
The hospital is expected to open in 2013. It will also include facilities for GPs and social services.
The first phase of the Bath House project started in 2009 when 48 flats for the over 55s were built, while Ceredigion council's planning committee backed plans for a Sainsbury's store earlier this month.