Ceredigion's chapel history show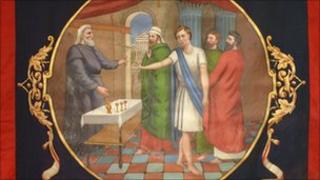 Artefacts from disbanded chapels, ranging from pulpits to harmoniums, have gone on display at a new exhibition at Ceredigion Museum.
Curator Michael Freeman said it was the "tip of a massive iceberg" of what is available, with chapels closing in Wales at the rate of one a week.
"Many congregations are finding it impossible to maintain their buildings," he added.
Other items on show include preachers' chairs and banners.
The exhibition includes items from the RJ Thomas, Tre'r Ddôl collection and the Ceredigion Museum collection.
"For a county rich in religious history the exhibition will be showing a few sample pieces from our collection, but this is simply the tip of a massive iceberg," said Mr Freeman.
'Too busy'
"Each year large numbers of chapel records and documents are destroyed or lost.
"This is despite the fact that nonconformity is of great importance in the history both of Wales generally and of local communities," he added.
One of item on display is a large banner from Rehoboth Chapel, Taliesin.
"It is believed to have been in use in the 1930s and possibly the 1940s, but the road became too busy after this and it was believed there were not enough men to carry the banner after the Second World War," said Mr Freeman.
The banner was apparently carried from Tre'r Ddôl to Taliesin on Good Fridays.
However, there are no photographs of this and the museum want anyone who can help to contact them.
'Preachers and Pulpits' at Ceredigon Museum, Aberystwyth between 26 March and 14 May.