Ena Pugh and Lily Millward see own names on 1911 Census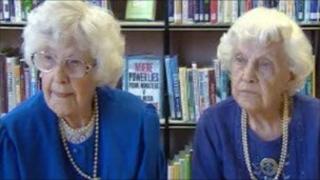 The world's oldest twins have been shown a 100-year-old census with their names on it.
Farmer's daughters Ena Pugh and Lily Millward were just one when their parents completed the questionnaire in 1911.
The sisters, from Powys, were named the oldest twins in the world by Guinness World Records in November.
Not many people are able to see their own names on the census record as they are kept confidential for 100 years.
The sisters were shown the 1911 document at Brecon Library as officials raise awareness that households need to complete this year's census on 27 March.
They said from the handwriting it was their mother Laura who had completed the form a century ago.
Mrs Pugh said: "I think it's mum's [writing], I don't think dad used to write a lot.
"There's the name of Cyril, our eldest brother, and Gwyn, our other brother.
"Things have changed such a lot since we were young - I had to leave school at 14 to go and work on the farm.
"Everything is changing all the time - every day, every year."