Powys substation plans prompt Abermule protest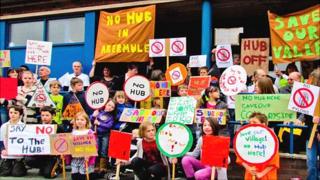 Protesters staged their own "anti exhibition" at the same time plans for a large new electricity substation in Powys go on show.
Two potential sites at Abermule, near Newtown, and Cefn Coch, near Llanfair Caereinion, have been earmarked covering about 19 acres.
The National Grid hosted an exhibition in Abermule on Saturday.
It said the electricity infrastructure needs upgrading. But protesters said the plans would blight their community.
Montgomeryshire MP Glyn Davies has labelled the "awful options" as "madness" in his blog.
He wrote about meeting with "very nice people" from National Grid and ScottishPower Energy Networks, saying "it was a bit like meeting your very nice doctor, who is also a friend, offering you the choice of ripping out your right eye or ripping out your left eye".
The plans by National Grid are being put forward as the organisation says the electricity infrastructure needs upgrading in mid Wales to cope with 10 planned new wind farms.
The substation will collect the energy from the farms, and a new 400,000 volt (400 kV) cable will take the power from the substation to the national transmission system.
'Collect the power'
The cable could be a new overhead power line, underground cables or a combination of the two. The National Grid is carrying out a study to find potential routes.
ScottishPower is also consulting local communities about plans to build three feeder power lines and an as yet unknown number of pylons, about 26m (85ft) high, which will connect the wind farms in Powys to the substation.
The first in a series of exhibitions was held at Abermule Community Centre, in Abermule Primary School, on Saturday. Others are being held around the region until 6 May.
Opponents held their own exhibition in the foyer at the school's community centre.
Organiser Tony Caplin said there queues of residents for the exhibition to ask questions and take away consultion forms showed the depth of feeling.
"The whole of Abermule is against this," he said.
The National Grid said in deciding on the final substation location and the route the new transmission connection will take, it is hosting a "major consultation" to "listen to and take onboard" people's views.
Senior project manager Peter Bryant explained that, at present, "there is no means of collecting the amount of power that the wind farms will produce, or of transmitting it into the national electricity transmission network".
"This means we will need to build a substation in Powys to collect the power from the wind farms and then connect the substation to the transmission network in Shropshire," he said in a newsletter to residents.