Beavers set for return to Wales for Ceredigion project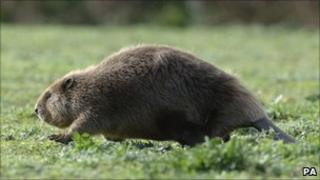 Beavers are to be re-introduced to the Welsh countryside for the first time in at least 900 years.
Ceredigion-based Wales Wild Land Foundation will create an enclosed habitat for a pair of European beavers at Artist's Valley, near Machynlleth.
An observation area will also be built for visitors.
Monitoring and research will also be carried out to evaluate whether the beaver can be introduced into more enclosed sites or back into the wild.
The project has been backed by a £5,000 Big Lottery grant to pay for fencing and relocation costs.
Wales Wild Land Foundation, formed in 2009, is developing the project with the Blaeneinion Project at a 75 acre site at Blaeneinion Farm, near Furnace in Ceredigion.
Aspirin
The two beavers, a male and female, will be transported from their current homes in Devon and Gloucestershire.
Simon Ayres, of Wales Wild Land Foundation, said: "We're finishing the planting programme and then some time in April we'll start working on putting the fence and hide up.
"We're then aiming to release the beavers in early summer.
"It's a really exciting time as people will soon be able to see the beavers from dawn to dusk in their natural environment.
"The site has a couple of ponds and plenty of willow trees for them to make their lodge and eat its leaves."
Sharon Girardi, project manager of Blaeneinion, said: "We anticipate that once the infrastructure is properly set up and we have learned more about the beavers, that visitors may stay at Blaeneinion to witness their nocturnal antics, and participate in a regular daily feeding session".
The European beaver (Castor fiber) is a herbivore and was once widespread throughout the UK and was sought after for its highly-prized pelt.
The oil found in the glands at the base of its tail contains salicylic acid (aspirin) which was used as medicine for headaches and fever in the middle ages.
Beavers lived in Wales until the 12th Century and the rest of Britain until the 16th Century but were hunted to extinction.
Gerald of Wales reported in 1188 that by then the river Teifi was its only habitat in Wales.
Scotland managed to hang onto its beavers - the last in the UK - until the 1600s and by the beginning of the 20th Century only a few colonies remained across Europe.
Successful reintroduction programmes have taken place in Scotland during the last few years.