Dyfed-Powys Police find relatives of 1903 dead officer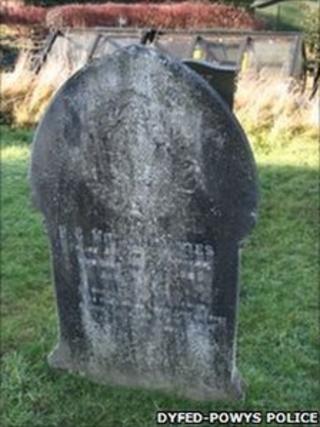 A police force found an unfortunate twist after tracing relatives of a police officer who died in the line of duty a century ago.
Pc William Davies, 43, died from injuries suffered whilst trying to make an arrest in Montgomery in 1903.
Dyfed-Powys Police traced Pc Davies' descendants because it wants to restore his grave's headstone.
But descendants revealed police evicted Pc Davies' family from their home two weeks after the officer died.
The state of Pc Davies' grave was brought to the attention of Dyfed-Powys Police chief constable Ian Arundale, who believes it should be maintained in a manner befitting the officer's professionalism and ultimate sacrifice.
The Dyfed-Powys Police Museum Association want to take responsibility to restore the headstone to its former state.
Sheep rustlers
It will now talk to Pc Davies' descendants, who were traced through an appeal in local papers and BBC Wales News Online.
Pc Davies' great grandson, Michael Davies, 64, said that he would discuss the future of the grave with the force in the next few weeks.
"My great grandfather died as a direct result of injuries received whilst attempting to apprehend violent sheep rustlers in Chirbury Street, Montgomery.
"He died three weeks later, leaving a wife and four children who were asked to leave their home at Gaol Road in Montgomery by the police a couple of weeks after he died.
"My mother has told me that because he wasn't killed in action my great grandmother didn't get any compensation for losing her husband.
"What is worse is that the case against the three or four sheep rustlers that were involved in the incident fell apart and no one was held responsible for my great grandfather's death."
Train collision
According to Mr Davies, Pc Davies' son was also involved in a tragedy 18 years later.
The Abermule train collision took place on 26 January 1921, killing 17 people.
"My grandfather, also called William Henry Davies was a railway guard on the back-end of one of the two trains involved in the Abermule train disaster," said Mr Davies.
So far, details of the case have been unearthed by Dawn Gill in the Powys Archive in Llandrindod Wells, local historians, Ann and John Walton, and Yvonne Rideout from Canada, who contacted the BBC Wales website with details about the Davies family tree.
Dyfed-Powys Police spokesman, Kevin Smith said: "It is still shocking to find out what happened to Pc Davies' family in the aftermath of his death but it was a different world then.
"We have been in touch with a monumental mason to see if the grave can be restored," said Mr Smith.
Although now faded, the stone shows a Montgomeryshire police force crest and a depiction of a helmet, truncheon, lantern and belt.
"Once the gravestone has been restored we would like to re-dedicate the grave as a mark of respect to the memory of PC Davies."