Mothers' petition to Welsh assembly over maternity unit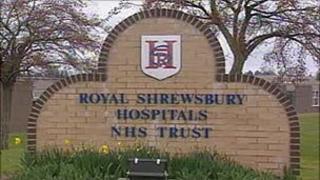 Petitions by two Powys mothers are being handed in at the Welsh assembly in opposition to planned changes at a hospital on the border with England.
Plans are to move a maternity and paediatric care unit in Shropshire from Shrewsbury to Telford, an extra 20 miles away for some.
Each year more than 300 babies from Wales are born at the Royal Shrewsbury Hospital.
Shropshire's NHS Trust has said it wants to improve services.
The Liberal Democrats in north Powys also launched a petition, and it will be handed over with those started by Newtown mothers Helen Jervis and Sally Jones.
It is estimated the three petitions have been signed by about 10,000 people.
'Dire consequences'
The petitions were launched following concerns that some hospital patients in mid Wales who are treated in Shropshire might face longer journeys.
Hundreds of people recently attended three public meetings in Llanidloes, Welshpool and Newtown to voice their concerns.
But a group of senior doctors has written a joint letter supporting the proposals and saying change is necessary otherwise there will be "dire consequences" for all health care services in Shropshire.
Shropshire's NHS Trust has said the majority of treatment would not be affected and the current maternity unit was cramped and out of date.
Head of midwifery Cathy Smith said last month the trust would not be looking at the changes if it did not think services for mothers would improve.
A petition opposing the plans by people in Shropshire has been signed by up to 20,000 people.